April 22, 2022
NYC Ferry is celebrating #FerryEarthWeek all week long by volunteering across the five boroughs. Our 'All Hands On Deck' initiative connects NYC Ferry crew with local organizations and neighborhood residents to participate in eco-friendly activities, community clean-ups, and beautification projects to expand NYC Ferry's positive impact in the communities we serve.
On Staten Island, crew members partnered with Snug Harbor Cultural Center & Botanical Garden and used their green thumbs to transplant seedlings. Snug Harbor Cultural Center is the result of more than four decades of restoration and development to convert a 19th century charitable rest home for sailors to a regional arts center, botanical gardens, and public park. It is a place where history, architecture, gardens, agriculture, visual and performing arts, and education come together to provide a dynamic experience for all ages.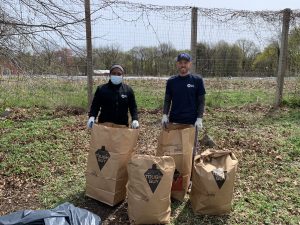 In the Bronx, our NYC Ferry crew worked with the Bronx YMCA to beautify the community by planting flowers and painting picnic tables. New York City's YMCA's mission is to help New Yorkers and NYC neighborhoods stay healthy in body and mind, and gain the skills and opportunities needed to thrive. In September 2021 a new YMCA facility opened in the Bronx, the first new opening in 30 years. Local leaders say there has been a critical need for more community services in the wake of the COVID-19 pandemic.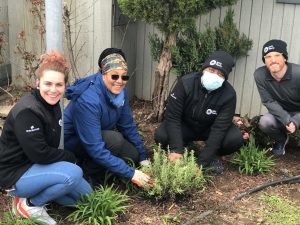 In Queens, our crew headed to Socrates Sculpture Park in Astoria to help build raised beds and assist with composting. Socrates Sculpture Park was once an abandoned landfill for decades until 1986 when a coalition of artists and community members transformed it into an open studio and exhibition space for artists. Today, Socrates is an internationally renowned outdoor museum and a designated New York City public park.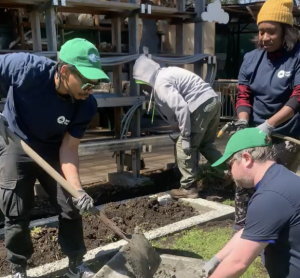 On Governors Island, NYC Ferry Crew headed over to Earth Matter's farm to help with composting, transplanting plants, and, of course, hang out with the chickens. Earth Matter was founded in spring 2009 to address the dual problems of resource recovery and healthy soils with a single solution: promoting the local composting of organic waste into a healthy soil amendment. They seek to reduce the organic waste misdirected into the garbage stream by encouraging neighbor participation and leadership in composting.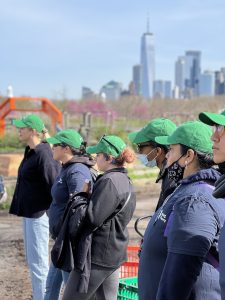 The NYC Ferry team ended the week in Bay Ridge, Brooklyn, removing invasive plants and transplanting herbs and flowers at Narrows Botanical Garden. NBG is one of New York City's largest and longest lasting all-volunteer gardening initiatives. Their goal is to educate and inform the community about the natural world and to foster knowledge and interest about plants and animals, especially those native to the Brooklyn area.
Thank you to everyone that participated in this year's Earth Week events, and thank you to the many community organizations and local residents that made #FerryEarthWeek a success!