June 2, 2021
We're #FerryProud to celebrate Pride Month with our riders!
The Pride movement first gained traction in 1969 following the Stonewall Riots in New York City. The LGBTQ+ community and its allies built on the spirit of resistance and organized the first "Gay Pride March" one year after the riots. The march eventually expanded to cities across the world and has grown into the massive celebration that we know today. While we celebrate Pride all year round, Pride Month is a special time to ensure that the voices of the LGBTQ+ community are heard and recognized.
Throughout the month of June, NYC Ferry will amplify the voices of the LGBTQ+ community by showcasing local LGBTQ+ businesses, landmarks, and events that you can support along our routes.
LGBTQ+-Owned Businesses
Bluestockings Cooperative
Corlears Hook
Bluestockings Cooperative is a collectively-run activist center, community space, and feminist bookstore that offers non-judgemental resource research and provides a radically inclusive place for all genders, cultures, expansive sexualities, and identities. The cooperative has been located on the Lower East Side for over 21 years, serving as a sanctuary for NYC's overlapping queer communities. Bluestockings has evolved from a women's bookstore to a feminist community center whose work is rooted in care and mutuality.
View this post on Instagram
Housing Works
Atlantic Ave/Pier 6
Housing Works is a healing community of people living with and affected by HIV/AIDS. The organization manages thrift shops throughout the city that raise funds for the LGBTQ+ community and those affected by HIV/AIDS. Their mission is to end the dual crises of homelessness and AIDS through relentless advocacy, the provision of lifesaving services, and entrepreneurial businesses.
View this post on Instagram
Housingworks – 150 Montague St, Brooklyn, NY 11201
Baz Bagel
Corlears Hook

Baz Bagel is a popular neighborhood bagel shop known for its custom tie-dye bagels. This inclusive spot is owned by Bari Musacchio and Saralyn Feinberg who specialize in hand-rolled, kettle-boiled, and baked-in-house bagels using the traditional NYC method. Baz Bagel has received local and global recognition for being a leader in the LGBTQ+ community.
Throughout Pride Month, NYC Ferry riders can earn a FREE Pride-themed rainbow cookie with any purchase by showing the NYC Ferry app at checkout.
View this post on Instagram
Baz Bagel – 181 Grand St, New York, NY 10013
LGBTQ+ Landmarks to See in New York City
39 Whitehall Street
Wall Street
On September 19, 1964, the very first public demonstration for gay rights in the United States took place outside of the U.S. Army Building in Lower Manhattan. LGBTQ+ identifying individuals joined straight allies to protest the military's discriminatory policies against the marginalized community.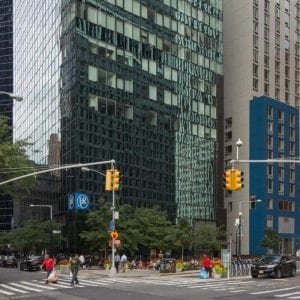 70 Willow Street
Pier 6
Legendary theater designer Oliver Smith purchased this Brooklyn Heights residence in 1953 and lived here until his death. From around 1955 to 1965, he rented the garden apartment to Truman Capote, the famous gay novelist, screenwriter, playwright, and actor who is best-known for writing Breakfast at Tiffany's and In Cold Blood.
View this post on Instagram
Marsha P. Johnson Park
North Williamsburg
Marsha P. Johnson Park is the first state park in New York City to honor an LGBTQ+ and trans person of color. The park stretches along the East River near North 7th, 8th, and 9th Streets, with views of the Williamsburg Bridge and Midtown Manhattan.
View this post on Instagram
Pride Events in New York City
View this post on Instagram
Join hosts Hope Giselle, Brandon Wolf, and activists across the LGBTQ+ spectrum in a virtual rally to take a stand against violence towards the LGBTQ+ community. The Rally falls on the 5-year anniversary of the Pulse Massacre and will honor the 49 victims of the horrific tragedy.
NYC Pride's official theme for 2021 is "The Fight Continues." For over 30 years, New York has been a center for the LGBTQ+ movement and is home to the largest Pride Parade in the country. Over the years, the purpose of NYC's Pride March has broadened to include recognition of the fight against AIDS and serves as a remembrance to those we have lost to illness, violence, and neglect.
The 2021 Pride celebration will include a broadcast special, virtual experience, and surprise pop-ups throughout the city.
PrideFest began in 1993 and consistently sees crowds of 300,000 annually in a normal year. The festival combines exhibitors, entertainers, food, and activities for a day of fun and celebration in the name of equality. This year, PrideFest will return with a reduced footprint on 4th Avenue between 13th and 9th Streets. The event expects to see approximately 100,000 attendees over the course of 7 hours. Entry to the festival will be monitored to prevent large crowds at any one given time.
Close out Pride this year at NYC Pride's Pride Island Watch Party, with a premium food & beverage package on your own mini lawn at The Greens. The flagship watch party will feature hours of digital programming, brought to life by a special appearance from Nicky Doll, followed by a live DJ set. The Greens is located on the rooftop of Pier 17, just a 7-minute walk from the Wall Street/Pier 11 landing.
Follow along with us on social media as we celebrate Pride, this month and beyond at @NYCFerry.